is located on the northern edge of the picturesque town of Kihei on the island of Maui . While other popular Maui vacation spots often cloud over in the afternoons, Kihei is one of the sunniest spots on the island. You will see more breathtaking Maui sunsets from Sugar Beach than anywhere else on the island. Neighboring islands can be viewed from the shores of Sugar Beach.
Centrally located on the Maui isthmus in tranquil Maalaea bay, Sugar Beach is a beautiful, six-mile white sand beach perfect for long walks (the longest beach in the state of Hawaii ). Long stretches of Sugar Beach are bordered by a large, fresh-water bird sanctuary (Kealia National Wildlife Refuge). This fresh-water run-off into the ocean creates a sea environment rich with diversity. The waters off Sugar Beach are a favorite spot for green sea turtles. The warm waters of Maalaea bay have long been calving waters for humpback whales. Enjoy the exciting sight of sea turtles and breaching whales (in season) right from your seat on your condo Lanai . Or relax in your Lanai chair after sunset and gaze at clear, Milky Way nights sparkling over the ocean.
Are you looking for vacation rentals on Sugar Beach? Great! Then you're a perfect fit for Maui Sugar Beach Owner, and we'd love for you to stay with us!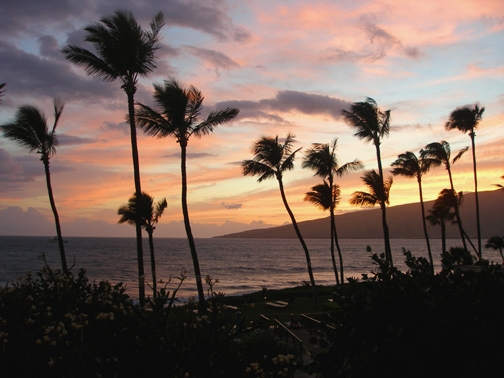 Sugar Beach Resort is lush with tropical landscape. The grounds abound with palm trees, Bird-of-Paradise flowers and fragrant native island flora. The swimming pool, Jacuzzi, wading pool, sauna, sundeck and putting green are all located in full view of the ocean. On a grassy lawn in full view of the ocean are outdoor bar-b-ques, outdoor dining tables and a rocky waterfall. An activities center, and a restaurant with bar are all located on the property. Championship golf courses, mindful things for your health, five-star restaurants, exclusive island shops, Hawaiian entertainment and the famous Kihei Farmer's Market are just minutes away.